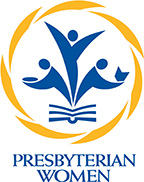 Presbyterian Women (PW) is an independent organization within the Presbyterian Church (U.S.A.) of more than 300,000 women. The programming and resource options for the organization offer a variety of ways for women to live out their faith in an inclusive, caring community. PW groups can choose to support the PW Purpose in any way, so PW groups may look very different from one synod to the next… or even one circle to the next within the same congregation!
Presbyterian Women of the Presbytery of Wyoming invites all women who support the mission of the Presbyterian Church to join us. We currently have Presbyterian Women groups in Cheyenne, Cody, Guernsey, Mountain View, Platte Valley (Encampment and Saratoga), Powell, Sheridan and Torrington.
If you're interested in joining a current group, or want to start a new group we encourage you to contact us.
For more information about Presbyterian Women at the national level, visit http://pma.pcusa.org/ministries/pw/about/
For more information about Presbyterian Women in Wyoming, contact any officer:
Resources
---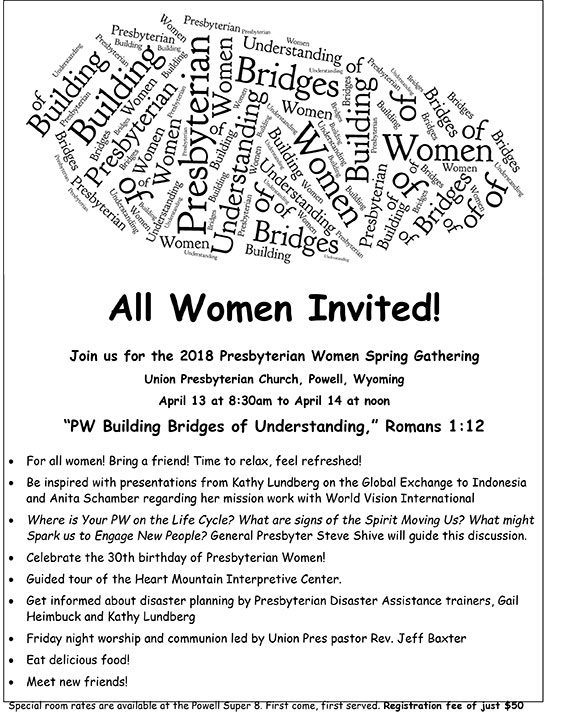 ---
Retreat 2017
Camp Story, Wyoming
August 11-13, 2017
We invite you to join us at beautiful Camp Story, nestled in the pines. You'll be glad that you took the three days to refresh yourself in body and spirit and were able to fellowship with other Christian women in this wonderful place.
This year our retreat is coordinated by the Presbyterian Women of Sheridan, Wyoming using the theme "Celebrating 100 Years of Camp Story."
We'll begin with a Coordinating Team meeting at 3:00pm. The retreat begins at 5:00pm.
The book How to Rejoice in Any Situation by Phyllis J. LePeau, one of the Fruit of the Spirit series, will be our Bible study. You'll explore each lesson with a different Presbyterian Woman leader.
Complete your registration form and make payment by Friday, July 28. Click on the links to the right.
Have other questions? Contact either Nancy Elliott at nelliott@wavecom.net or 307-674-6342 or Nancy Cook at 307-751-6788 or e-mail willowcreekwoman@yahoo.com
---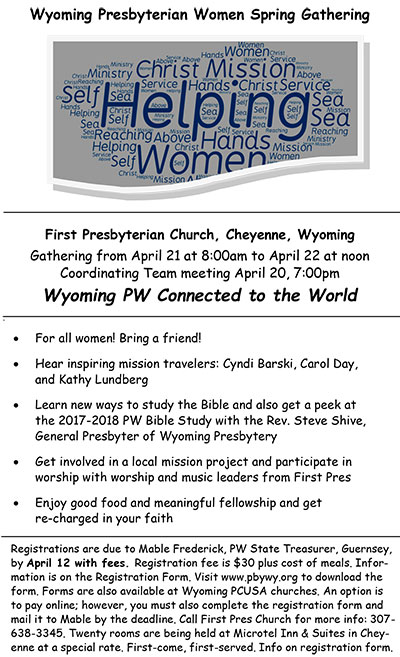 2017 Gathering Registration Form
2017 Gathering Bulletin Insert
---

Sheridan women show off shirts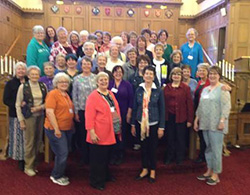 Gathering attendees included women from Cheyenne, Guernsey, Powell, Sheridan, and Torrington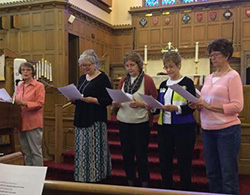 Linda Learned, left, installs new statewide officers, left to right: Kathy Lundberg of Sheridan as Moderator-Elect, Louise Simineo of Sheridan as Vice Moderator-Elect, Linda Learned of Powell as Historian and Mable Frederick of Guernsey as Treasurer
---

Spring Gathering 2016
Mountain View, Wyoming
April 14-16, 2016
It's time for our annual Presbyterian Women Spring Gathering! This year's dates are April 14 to April 16 and we thank Mountain View for hosting. Where is Mountain View? Off I-80 near Evanston, Wyoming. You say, "what a drive!" Well, did you know that it's "a drive!" for women from Mountain View to travel to any of our own venues? You can do it! Let's have a big showing!
Thursday night will be the Coordinating Team meeting for all moderators and the executive committee; Friday will be a full day for everyone, and Saturday's events will end after lunch.
Register now and make your lodging plans. Deadline for registration is April 6.
Here are some highlights surrounding this year's theme which is "PW Fired Up! Get Off Your Knees and On Your Feet!"
The Rev. Shayla Graham, a newly ordained pastor in Northeastern Wyoming, will focus on firing up our spiritual lives by taking our primary focus off of ourselves and placing it on who God is and what God does. She's titled her presentation "Holy Fire."
Marilynn Collins, moderator of PW Synod, will speak on "Forged on Fire!" She'll focus on the defiant first Protestant women of France whose faith put them in danger. Find out why you should step out of your comfort zone through your faith.
Steve Shive, General Presbyter of the Wyoming Presbytery, will acquaint us with How To Do Bible Study.
These, along with wonderful fellowship, work on a local mission project, and good food will round out the days. Hope to see you in April! If you want more details, contact Melinda Brazzale, mlbrazzale@gmail.com, 307-256-0506.